Hello my friends! How are you all doing this Monday evening? I've been super busy, as usual. This post is just to give you an update and some thoughts on my mom.
My mom FINALLY started her Chemotherapy on Friday. By the second day the symptoms began. It's been three days and she's been able to do nothing but lie down in her bed. She's been taking her medicines, vitamins and drinking plenty of fluids. But I hate to have to see her in pain, unable to do anything, and there's really nothing to do but wait it out. We were told what the side effects were going to be, but it's different when it actually starts to happen. This is the first treatment and we have nine more to go.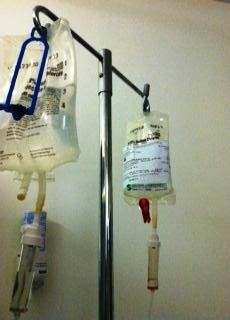 Yesterday, it kind of hit me that this is really happening. I may see my mother in a way I've never seen her before. I'm going to have to take care of her; instead of her taking care of me. Again, this is only the first treatment and I pray that the symptoms don't progress as more treatments come. I have to keep putting my mind, into the mindset that this Chemo is fighting the bad and getting it out for good. But this is serious stuff and I wonder when other side effects will occur. I wonder if I'm emotionally ready, if those side effects happen, to see my mom's hair fall out, see her looking sick, unable to get out of the house because of the pain. I don't want these things to happen. My mom has ALWAYS been a strong woman, and I know she'll be strong through this. But I don't want her to have to go through these things. I know I am strong and have the faith to get me though anything. I know God is with us and will not forsake us, that we will come out in the end stronger, healed, with it all behind us. But sometimes it's hard.
Please remember my mom and I, as you pray or have quiet time with God. I thank you so, so very much! I will pray that God blesses you in return! Follow my
twitter
for updates here and there of the journey.